Here's the link to the website that published my article!
Let me translate it into English for your convenience as follows. Enjoy the reading!
Among the uniqueness that the city on the water can boast of is its incredible toponymy.
Strolling throug calli and fondamente you will certainly have noticed the famous "nizioleti" (attention: it is pronounced without L and with a deaf S instead of the Z) or little sheets, white rectangles of mortar - which recall a sheet - surrounded and written in black, hand painted directly on the walls and bearing the names of the places where you are.
And here ... begins a magical and phantasmagoric journey.
Don't rush and take your eyes off Google Maps: it doesn't work everywhere in Venice anyway, something I'm really proud of!
Look it up a little, that's it, that's ok. Every bridge, square or campiello (little square), calle (alley) or ramo (dead end), piscina (former pool) or corte (courtyard), salizada (drive) or fondamenta (waterfront), bears a name that always recalls an event that happened, a commodity for sale, a profession, a trade.
Sure, the nizioleto tells us about plenty of saints and noble families but it often transcends between the serious and the facetious: legends of ghosts, grim facts, easy morals and food.
Don't tell me you've never heard about the Ponte de le Tette (bridge of tits!) in what used to be considered the red light area of ​​the city, the Carampane! And what about the Sotoportego del Casin dei Nobili(Porch of the brothel for Noblemen)? The name speaks for itself! let's not forget that there is also Calle delle Turchette (young Ottoman girls) and, on the other hand, Calle de dona onesta.
Just think that until Napoleon's arrival the nizioleti did not exist at all. Before the French between 1808 and 1813 created the Cadastre, the toponymy was the exclusive property of the locals who passed each denomination orally. The poor "foresto" (foreigner) could only struggle, get lost, swear and finally count on the help of the natives who often made fun of him and sent him off course!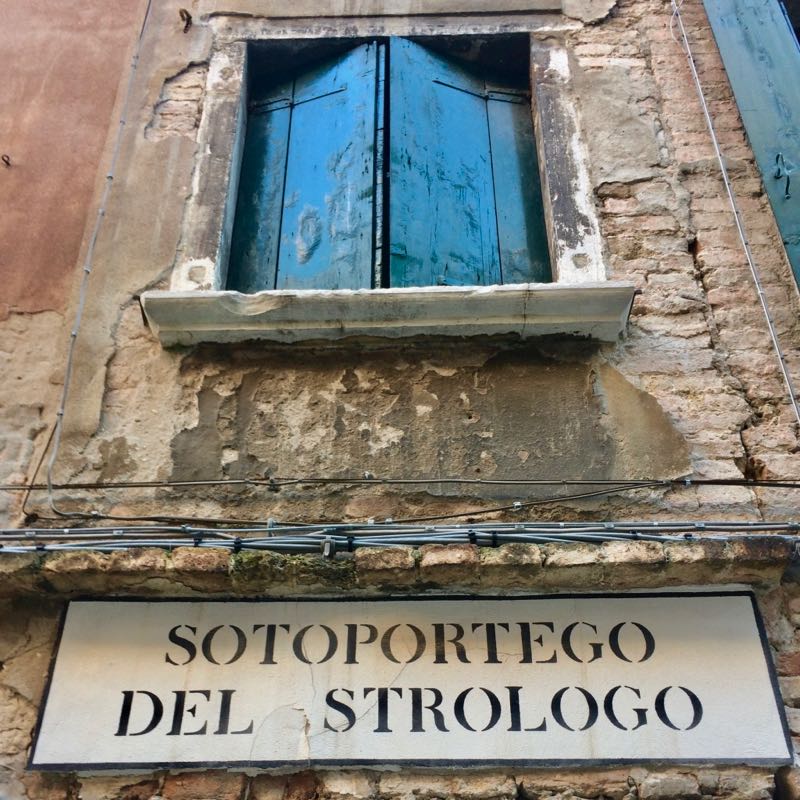 Now: do you need a cobbler or an arrow maker? You go to Calle del Calegher or in Frezzaria. Amongst the various names, the recurrence of the most popular trades or those linked to local traditions is in fact significant: Remer, oar maker, Squero, small boatyard, Barcaroli (boatsmen), Pescheria (fishmonger), Fontego, storehouse/deposit, Chiovere, large free spaces for drying clothes dyed or washed, Spezier, apothecary/pharmacist, Marangon, carpenter, Forner, baker, Pistor, miller, (careful: the former could only bake bread while the latter could only grind wheat to make flour - from the Latin pistorum - and knead bread) Scaleter, pastry chef (because of biscuits decorated with grooves that resembled a ladder), Pestrin, milkman, Frutarol, greengrocer, Botteri, coopers, Lavadori de lana, wool washers, Saoneri, soap makers, Malvasia, a Greek wine so popular (especially the sweet version) as to name the wine shop and the streets around it) . For each of these professions, be sure that there is at least one calle, a bridge and a campiello!
By the way: do you know why in Venice all the squares (apart from San Marco) are called Campo? But I can't tell you everything! You must come and see me!
The Venetian place names also tell us about the cosmopolitan dimension of a city that, from the fall of the Eastern Roman Empire until the consequences of the discovery of America really had an irreversible impact on the Serenissima republic, was considered the navel of the (then known) world. Today we would say that Venice was a hub: lista di Spain, calle degli Albanians, calle del Fontego dei Germans, Ponte dei Greeks, Isola degli Armenians, Fontego dei Turkish, Riva degli Schiavoni (coming from Slavonia, today's Slovenia). calle de le Rasse (from the Kingdom of Rascia, today's Serbia), Campo dei Mori (ie originating from the Morea and not for the color of the skin), just to name a few.
And what about food? I suggest you not to look for nizioleti on an empty stomach because you risk reaching the end of your wallet! You could find yourself in Corte dell'anguria (watermelon) but also in Campiello dei meloni(little square of Melons), take Ramo primo del caparozzolo (the first dead end of tellina) or navigate on Rio de le ostreghe (oysters), come across Corte del fico, Corte dei risi (rice was always declinated in plural form) and pass Sotoportego de l'uva(Porch of grape), Fondamenta del megio (waterfront of millet) and Ponte della Fava (bridge of broad bean)!
Feel like something richer? Calle dei nomboli (Alley of quarters of meat) and Fondamenta dei penini (waterfront of pigs feet, of which, we all know, nothing is wasted), Fondamenta del baccalà (Waterfront of dry stockfish, rehydrated and processed with milk), Ramo del Bisato (dead end of eel) and Corte del luganegher (courtyard of the sausage maker) will suit you! Walk to Rialto along Riva del vin and de l'ogio (waterfront of wine, of oil) and climb across Ponte de l'aseo (bridge of vinegar) and de la latte (bridge of milk, declinated in feminine form, like we used to once upon a time), Calle dello zucchero (alley of sugar) and the Magazzini del sale (storehouse of salt).
Chese and fruit before coffee? I'll be waiting for you in Naranzeria first and in Casaria at Rialto area next, then in Corte del caffettier (yes, the one who prepared and sold coffee) and finally in Calle dei acquavitaj (alley of spirits vendors) for and after-meal drink! I am happily exhausted, are you?
A few years ago a somewhat short-sighted municipal council had some fadeds nizioleti rewritten in Italian. Heavens, open up! We have risen and some jolly guy has even bothered to smear the incriminated place names: we have renamed it Il giustiziere dei Nizioleti!
So be patient, try to decipher a few words in Venetian dialect and you will be rewarded!
Or Contact me and I will take you on the Ponte de le maravegie (bridge of wonders)!